Miss a net or just want to go back and hear what was discussed?
11/12/19, Doron, K1DBC
A live audio feed is currently setup for 146.640 on
Broadcastify
, this can also be found on the home page. Please see
this shared Google Drive link
for mp3 archives of our nets. I have and will archive any audio I can get, currently have all available Sunday nets. These may also potentially move to a ACARES youtube page. This audio feed does currently go down once in a while, so not all audio is archived.
Thanks,
Doron
K1DBC
---
From the ARRL Letter for March 28, 2019:
Colorado ARES Volunteers Muster for "Bomb Cyclone" Winter Storm
Amateur Radio Emergency Service (ARES) volunteers in Colorado stepped up as a mid-month "bomb cyclone" winter storm struck the state, with heavy rain shifting to heavy snowfall. The storm affected several states and led to significant flooding in Nebraska. Parts of Colorado recorded winds of nearly 100 MPH and record-low barometric pressure readings. ARES teams in Colorado began preparations a day ahead of the so-called "bombogenesis" weather event.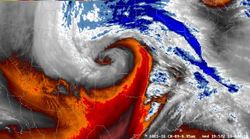 Water vapor imagery of the March 13 "bombogenesis" weather event. [National Weather Service image]
Pikes Peak ARES alerted its personnel via email and a regularly scheduled Tuesday net and coordinated with the Special Communications Unit (SCU), a special cadre of radio amateurs in the Pikes Peak Regional Office of Emergency Management (OEM). Most SCU members also belong to ARES, but when called up by the OEM, they wear their SCU hats. The SCU planned to deploy to the Emergency Coordination Center (ECC) on March 12 and be ready to operate first thing in the morning.
At the time, the Red Cross did not anticipate needing Pikes Peak ARES support, so the ARES district planned to undertake weather spotting for the National Weather Service (NWS) office in Pueblo and relay status information to the ECC. By the morning of March 13, however, the storm's timing had changed, and the Red Cross requested ARES operators in four shelters, creating a problem with recruiting and deploying sufficient volunteers in time. Three ARES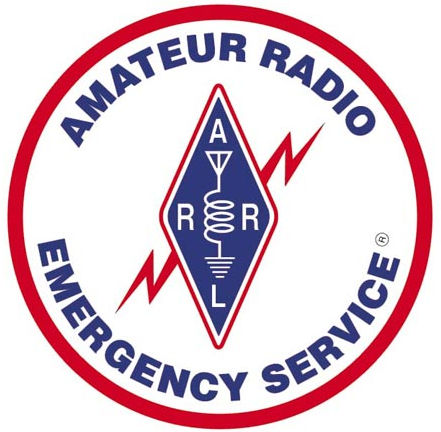 volunteers were identified, but by then the weather was so severe that only one was able to get through, amid difficulties.
At the request of NWS Pueblo, a formal weather net was called up and ran for more than 10 hours, even though the primary and back-up net control stations lost power for several hours. Some 70 operators provided reports during the storm and its aftermath. An informal net continued for another 16 hours until the SCU operators were released from the ECC.
"While the net started out as a weather net, it quickly became a common way for operators to report stranded motorists, requests for assistance, abandoned vehicles, Good Samaritan rescues -- important so that the ECC could clear police, fire, rescue, and National Guard units from responding -- shelter status, and requests about road conditions," said John Bloodgood, KD0SFY, Pikes Peak ARES Emergency Coordinator and Public Information Officer (PIO). The storm stranded more than 1,000 motorists in El Paso County.
Neighboring Douglas and Elbert counties also took proactive measures on March 12, opening emergency operations centers (EOCs) in anticipation of the storm. Both counties count on ARES of Douglas and Elbert Counties (ARESDEC) radio to support communication in emergencies. Before the heavy rain turned to snow, the two counties had already begun to open shelters. The ARES team's operations staff closely followed weather forecasts and knew this activation would be different.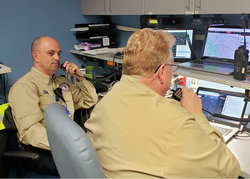 Frank Watervoort, AB0WV (left), and Rand Reynard, W0RDR, at the Douglas County Emergency Operations Center. [Ron Coffee, KD0TRY, photo]
"Our preferred procedure is to keep our operational periods to about 8 hours," ARESDEC Operations Chief Denny Phillips, W0DDP, explained. "However, we knew that once our people were in place, especially on the eastern plains, that providing relief would not be possible. Our people would have ride out the storm in the shelters."
As the storm progressed, it became clear to county officials that additional shelters would be needed. ARESDEC operators assisted the Red Cross in setting up shelters and organizing and managing food service.
By the end of the storm, more than 1,100 people were hosted in eight shelters across the two counties. ARESDEC deployed 17 radio operators. Emergency Coordinator Jim Rooney, N4JJR, praised the volunteers' performance, saying, "Our team performed well above expectations due to their commitment to training and willingness to serve."
Colorado Section Emergency Coordinator Robert Wareham, N0ESQ, oversaw and took part in the overall response. -- Thanks to Pikes Peak ARES EC and PIO John Bloodgood, KD0SFY, and ARESDEC PIO Ron Coffee, KD0TRY 
From the ARRL ARES E-Letter February 20, 2019:
ARRL Board Meets in January: ARES Plan Adopted, National Traffic System Embraced
The ARRL Board of Directors - the League's elected policymakers -- met in formal session last month, taking significant actions of special interest to ARES, NTS and other amateur emergency communications communities.
The chairman of the Public Service Enhancement Working Group (PSEWG), Great Lakes Division Director Dale Williams, WA8EFK, updated the Board on how the committee had incorporated comments gathered from last fall's survey into its report and the new ARES Strategic Plan draft. The Board adopted the ARES Plan as proposed by the PSEWG and recommended by its Programs and Services Committee. The new, full ARES Plan can be viewed here.
Under the new plan, there are three ways to serve with commensurate levels of training requirements that will allow ARES participants to enter the program, and if they choose, migrate to higher levels of qualification and service. Level 1 is the basic ARES level, with introductory training conducted by the local ARES group to meet their needs and those of their served agency or partners. This training could be formal or informal, and would introduce the ARES participant to the fundamentals of emergency communications and provide instruction on how participants are to conduct themselves while serving in the field or otherwise activated. Participants may elect to remain at this level, or any level, based upon the extent of their desired ARES involvement.
Level 2 -- To qualify for this level, participants must complete the following courses: ARRL's EC-001 Introduction to Amateur Radio Emergency Communications (a no-cost program) and the now ubiquitous FEMA Independent Study courses IS-100, IS-200, IS-700, and IS-800 that lend critical knowledge for operating efficiently under the Incident Command System. Participants are also encouraged to take advantage of training opportunities available through partners to enhance their knowledge and skill set.
Level 3 -- The successful candidate will complete training that prepares them to assume ARES leadership positions, including the key program coordinators: the local/county Emergency Coordinator (EC), Assistant District EC, District EC, Assistant SEC, and the Section Emergency Coordinator. Leaders are required to complete ARRL's EC-016, Emergency Communications for Management, and FEMA Professional Development Series courses IS-120, IS-230, IS-240, IS-241, IS-242, IS-244, and IS-288, the Role of Voluntary Organizations in Emergency Management. Participants also are encouraged to complete the FEMA courses IS-300, and IS-400 should they be available locally.
Readers are encouraged to review the entire new plan, as it represents the first major program changes in decades and will form the cornerstone for the venerable ARES program going forward. PSEWG Chairman Williams said the adoption of the ARES Plan is not the end of this process. "ARES cannot remain stagnant only to be updated once every few generations. The ARES Plan, and the ARES program, must be able to evolve," he said, adding that the emergency preparedness staff at ARRL headquarters will conduct an annual ARES Review to insure continued program relevance. There is more discussion of the new ARES Plan from ARRL Communications Manager David Isgur, N1RSN, here.
Wlliams noted that after finishing the ARES portion of its agenda, it will move to work on aspects of the National Traffic System. The Board adopted a resolution recognizing that the National Traffic System provides a large corps of operators experienced in formal third party message handling and routing procedures, dedicated to providing emergency communications via radio. The Board noted that NTS uses all modes as appropriate and needed. The Board affirmed ARRL support for the National Traffic System and all amateurs involved in traffic handling, and their role as partners to ARES in ARRL's public service toolkit. The Board recognized the role and value of ARES and NTS in directly serving the public in addition to partnering with served agencies.
In other actions, the Board created a committee to establish the requirements for the ARRL's Emergency Preparedness Manager function. The committee, to be known as the EmComm Manager Requirements Committee, was charged with filing a final report two weeks before the Board reconvenes in July 2019.