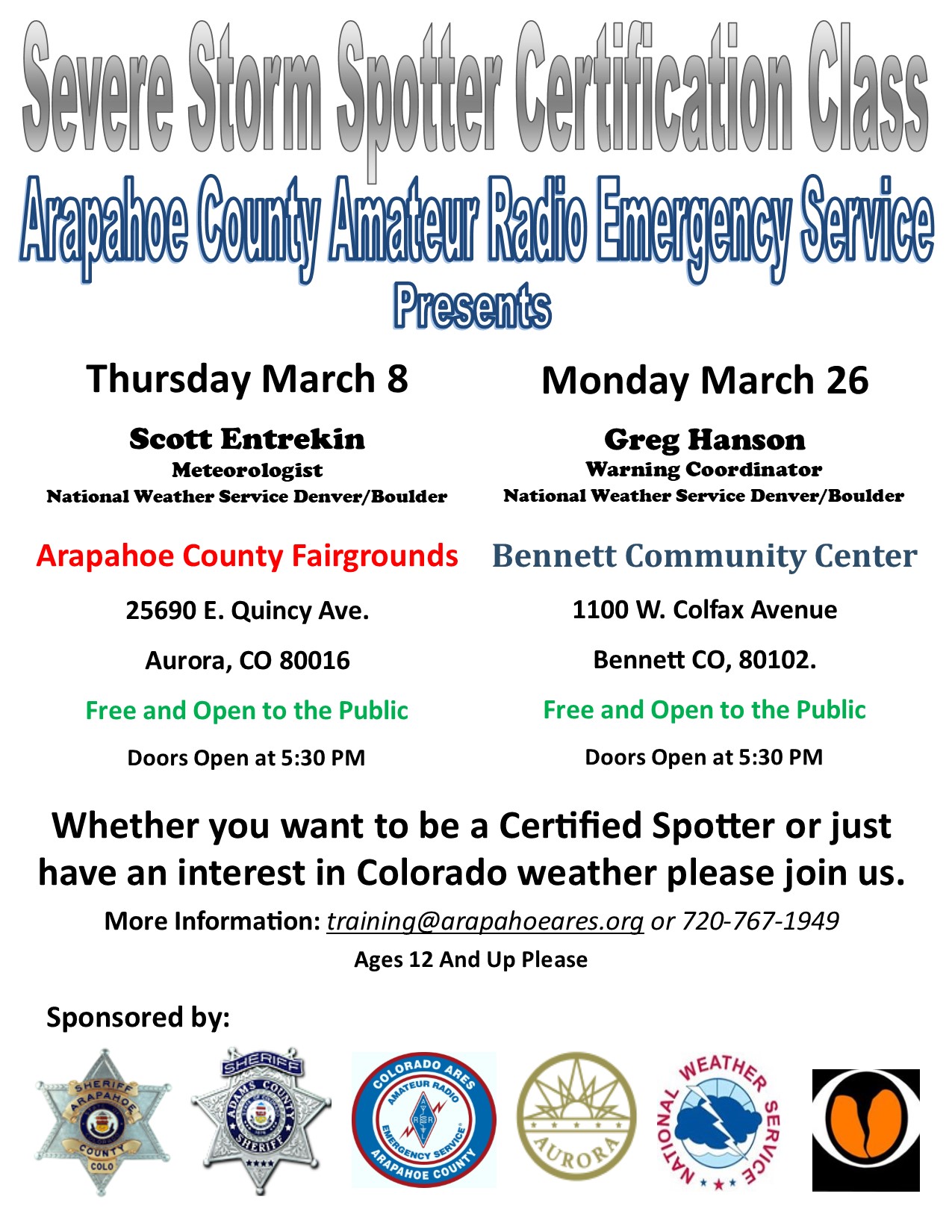 The "Show Us Your Shack" drawing was held at the Jan 11 meeting, and the winner of the MFJ dual-time shack clock was: 
 AD0PD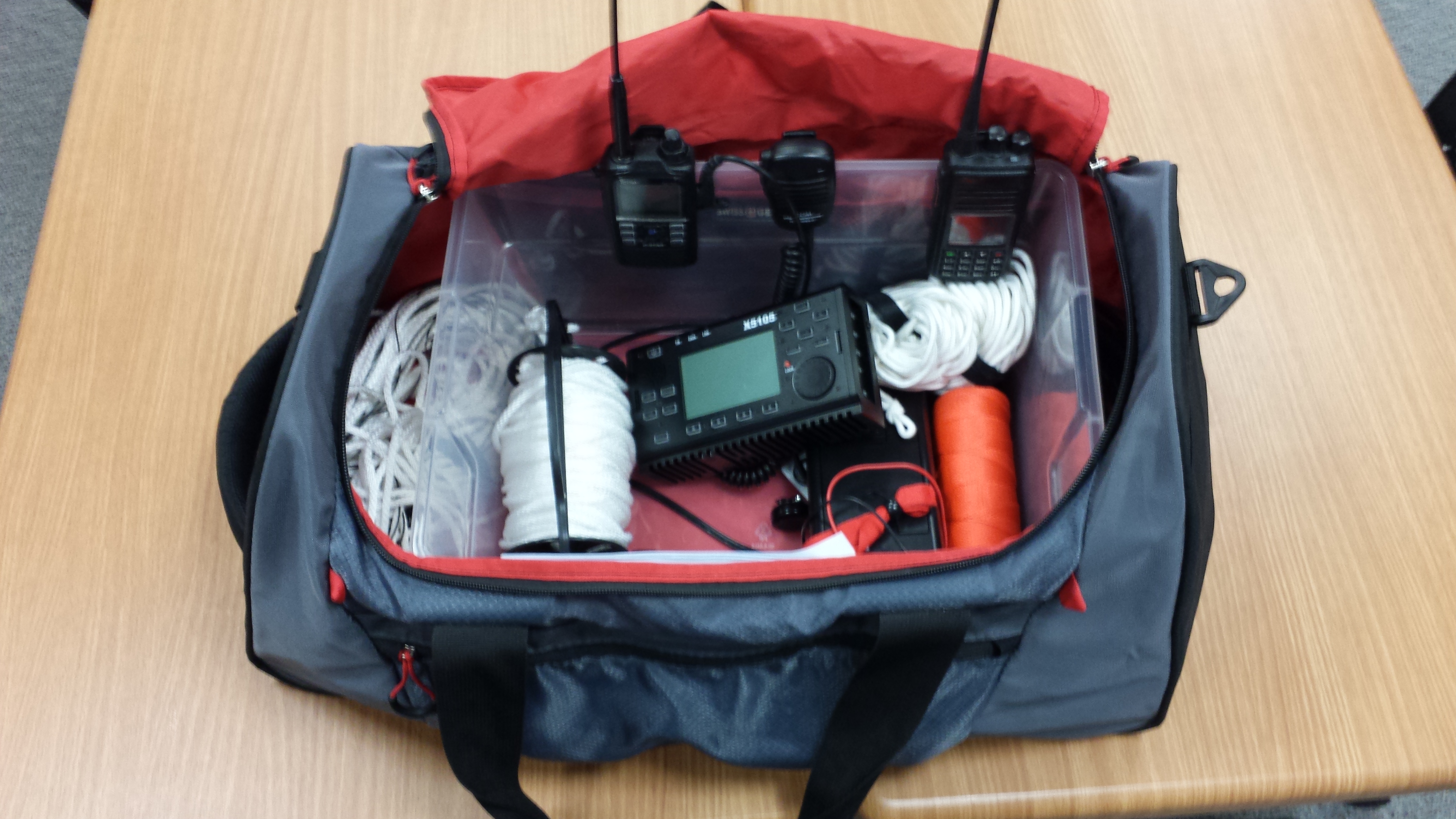 My "shack" is actually just a bag. The radios are an Icom ID-51a, a TYT MD-380, and my X5105 portable HF radio. I have a 40 meter half-wave dipole, and an extendable painter pole to rig it as an inverted V.
And here are the rest.  Please feel free to share photos of your shack or other items of interest.  E-mail them to KI0EP.
KI0EP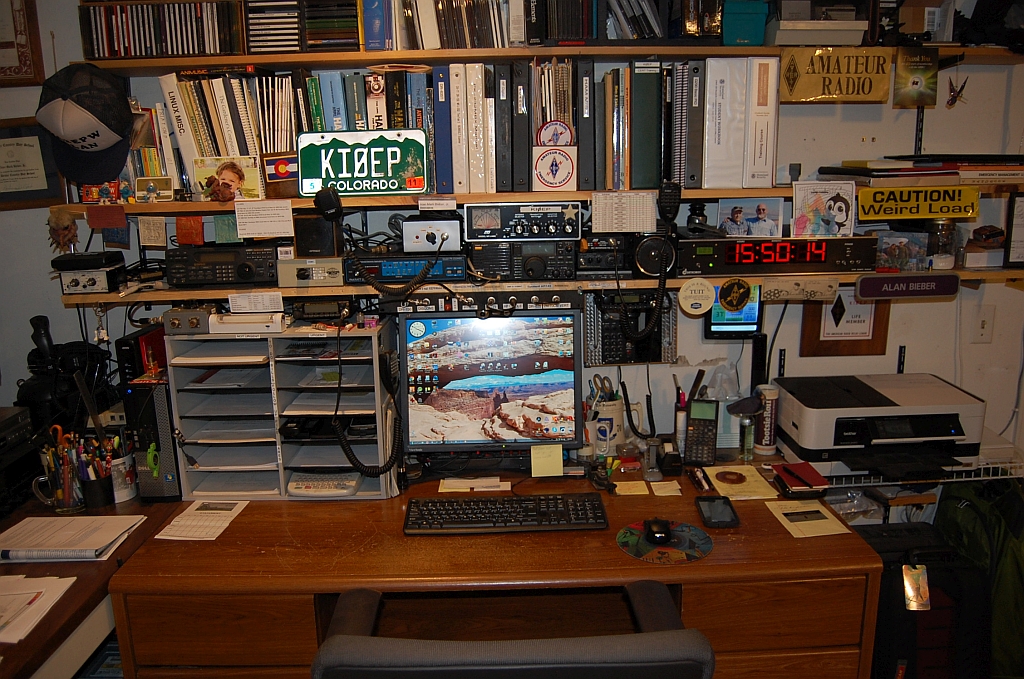 My equipment includes an Alinco DX-77T with an MFJ-949C tuner for HF, an Alinco DR-635 for VHF/UHF FM voice, and an Alinco DR-150 with a KPC 3+ for VHF packet and FM.  I also have a PK-232 for HF packet/RTTY/AMTOR and have the DX-77 interfaced to the computer for HF digital modes.  I use a Radio Shack dual-band vertical and a discone for VHF and UHF and a 75m dipole for HF.
KD0UFO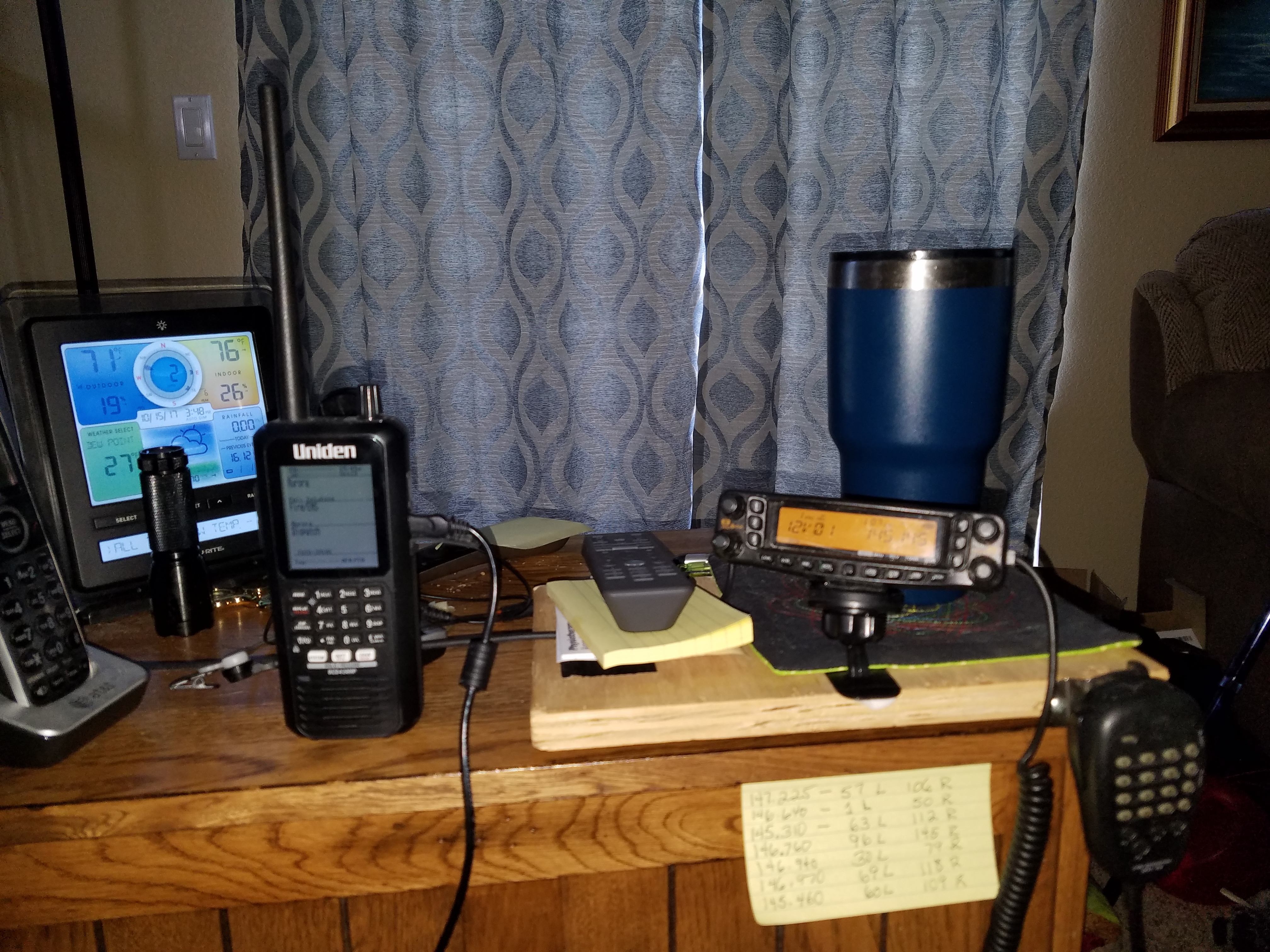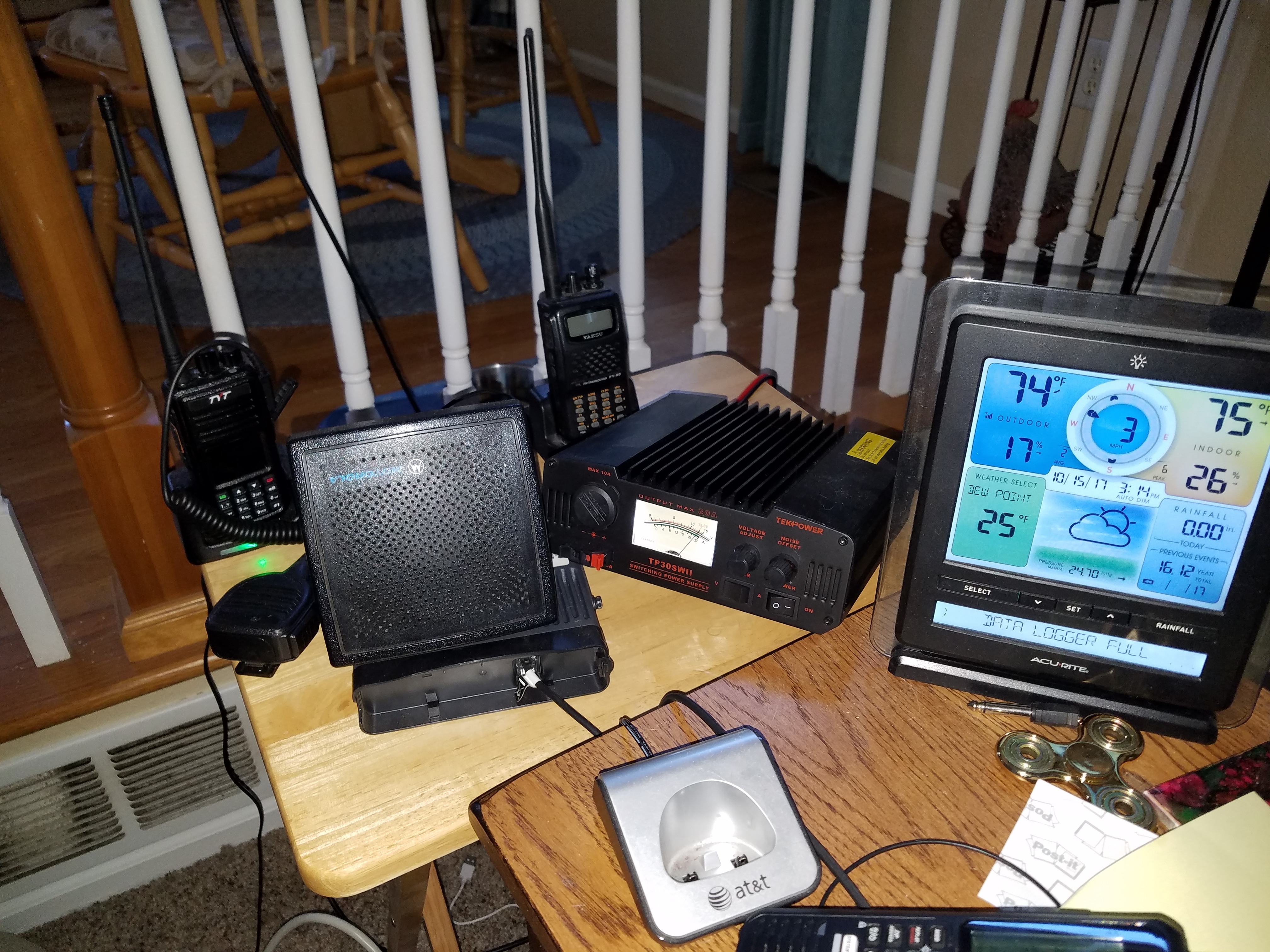 Here is what I have Yaesu 8800 powered by a TekPower TP30SWII Switching Power Supply. In addition, there is an Yaesu FT 60 dual band portable, a TYT MD380 DMR UHF portable, Uniden BCD436HP Scanner and a AcuRite Weather Station and I will soon be adding a Motorola DMR UHF portable.
Adam Don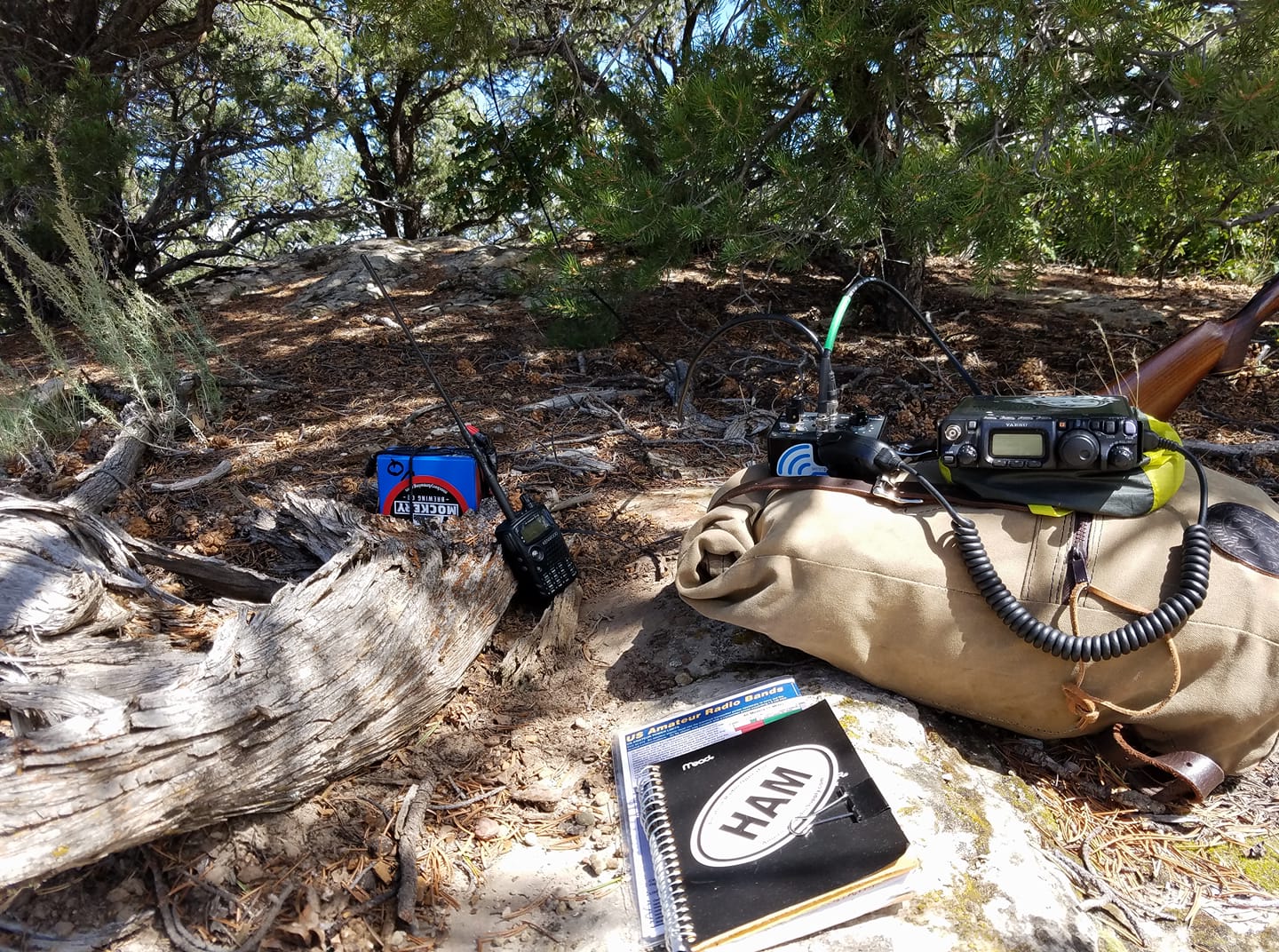 My shack is only portable at the moment but it's sure is fun! An FT817, MFJ QRP pocket tuner, 9:1 balun with a 30' wire. This pic is a few weeks ago in the Dominguez Escilante near Grand Junction. 
W0ERX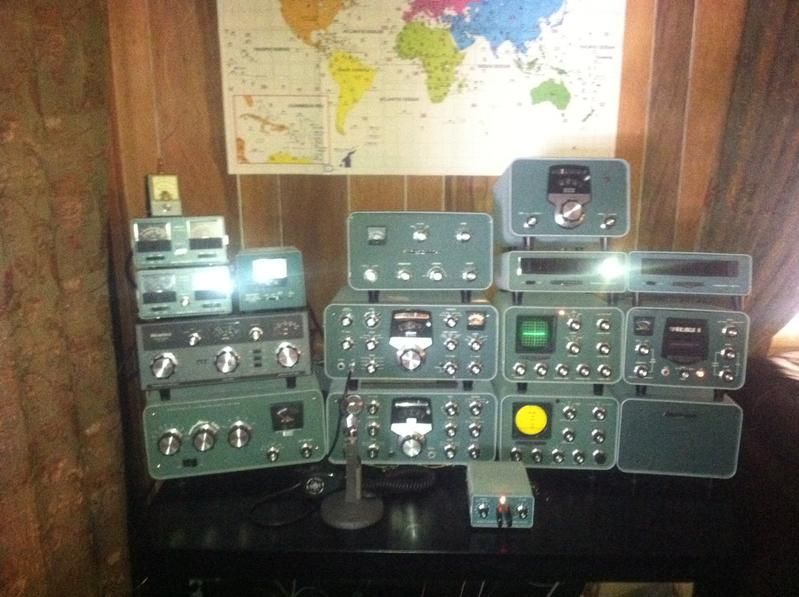 This is a Heathkit "Lover O' The Green" ham shack!  It is a working museum of the venerable Heathkit SB line – and has one item of everything they produced in that series.  I spent about 5 years trading and collecting to get all of the pieces – it was a blast just acquiring the shack.  There is nothing better than firing up those rigs, feeling the heat form the tubes and getting that solder smell going on a winter night.  Then there is a fine art of "dipping" the transmitter and fine tuning all of the many adjustments to get your signal just right.  It is a unique privilege to operate this gear……
N0POH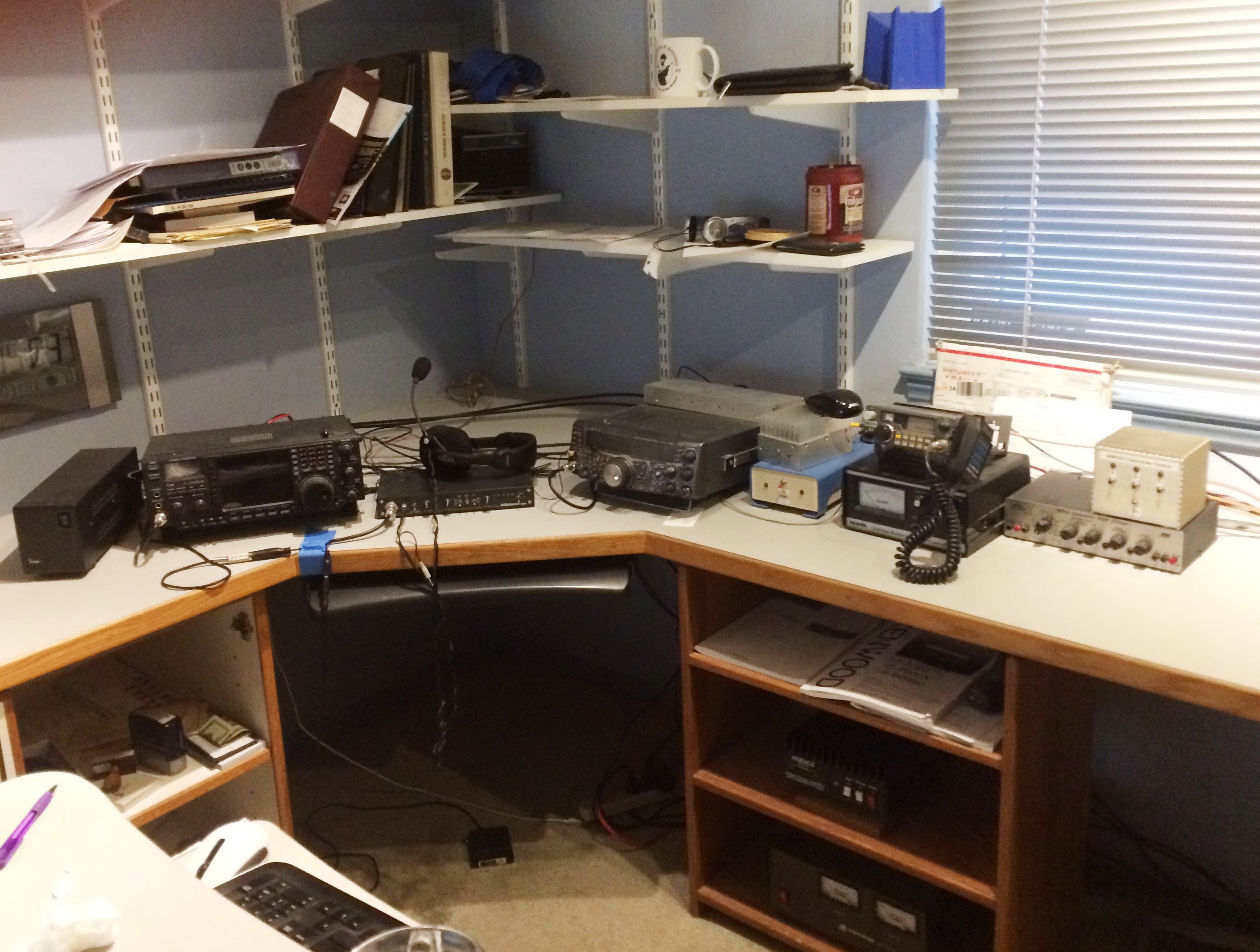 N0POH Contest Station Left to Right: For HF & 6 meters ICOM 756 PROIII with power supply Heil Headset atop RigBlaster Duo digital/Analog Interface DEMI keyline box atop Kenwood TS-2000x for 2m/70cm/1.2 Gig.  ArtCraft 222 MHz transverter and 30 watt brick.  Yaesu FT-290R 2 meter IF on top of the TailTwister rotor control box Transverter selection switch atop an MFJ-784B DSP filter. Not shown is the "Microwave cabinet" off to the right with transverters and bricks for 902 MHz and 2304 MHz. 10 GHz is tower mounted.  Also further right is a Kenwood TM-733 Dual band for FM and a Kenwood TR-751A 2 meter set up with a KPC3 for packet.  Under the counter is a 150 watt brick for 2 meters and an Astron 35 amp Power supply. The station is being slowly dismantled for an entire room remodel next month.
N0PUF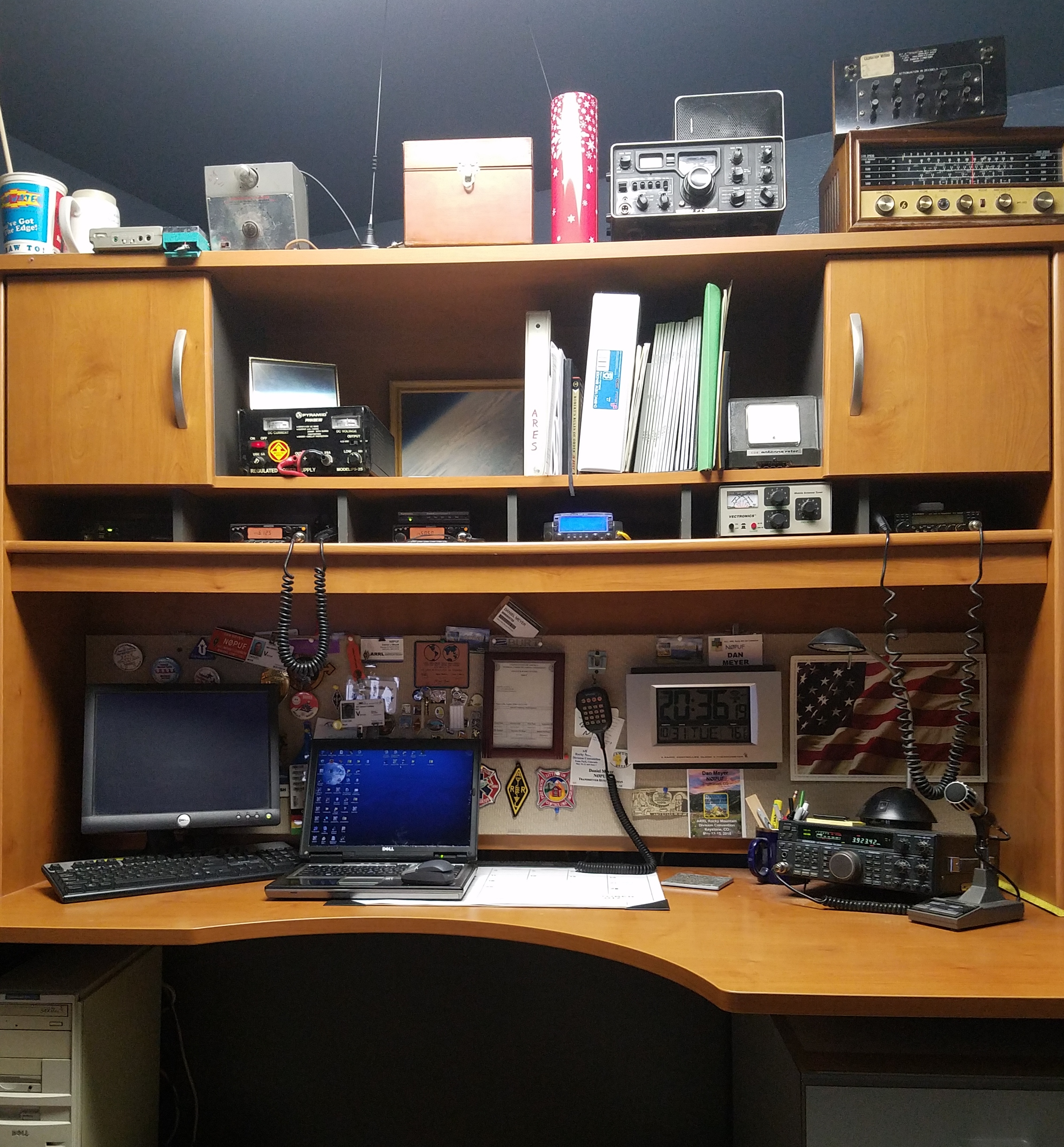 KB0UBZ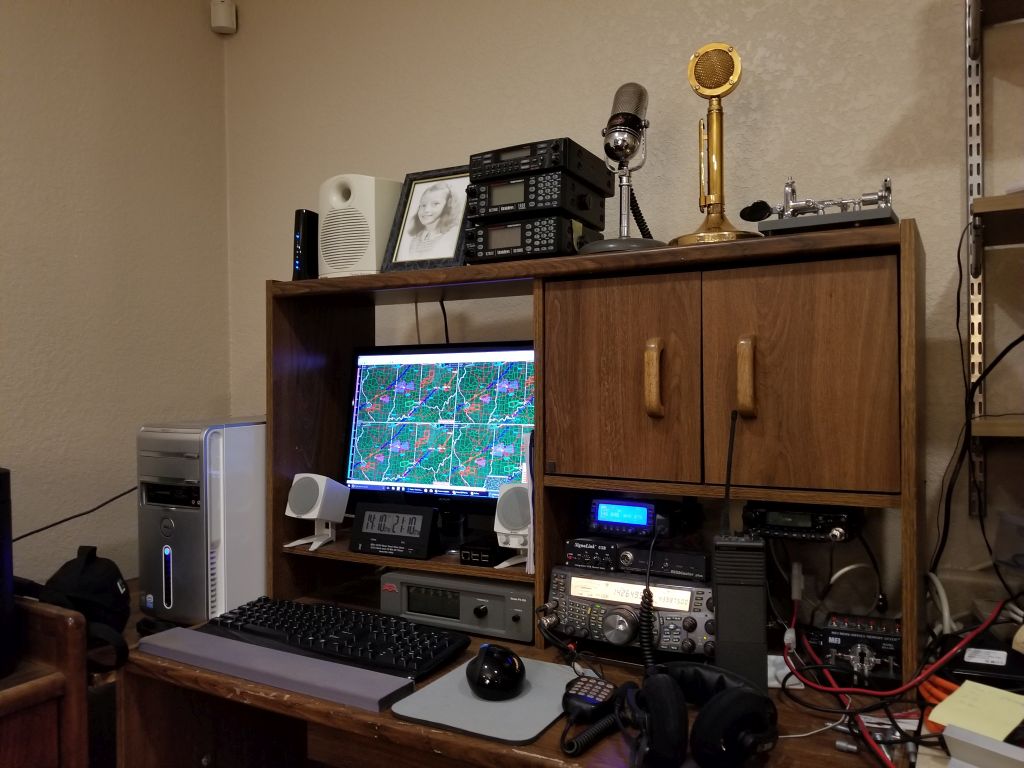 Top (left to right)
Radio Shack Pro 2008 scanner
Uniden BC796D TrunkTracker IV
Uniden BC 780HLT TrunkTracker III
Olson M-102 3-way Crystal Microphone
Astatic Corporation model D-104 Golden Eagle Microphone
Vibroplex Bug Telegraph Key
 Middle (left to right)
Weather Computer/server
 Bottom
PK900 Dual Port (HF and VHF) TNC interfaced with the Alinco DR-150 for VHF Packet and the Kenwood TD-2000 for HF
Kenwood TM-V7 dual band (VHF/UHF) radio
SignaLink USB Integrated Sound Card
West Mountain Radio RigBlaster Plus
Alinco DR-150 VHF radio for packet
Kenwood TS-2000 HF Radio, interfaced with the computer for PSK-31, Amtor, RTTY, etc
Bendix King UHF handheld Radio
MFJ Enterprises Inc. MFJ-490 Memory Keyer
Heil Model HC-5 Headset
Not Pictured:
Astron VS-35M (powers all of this)
(I actually have more but this is all that will fit in the picture.)
KB0LP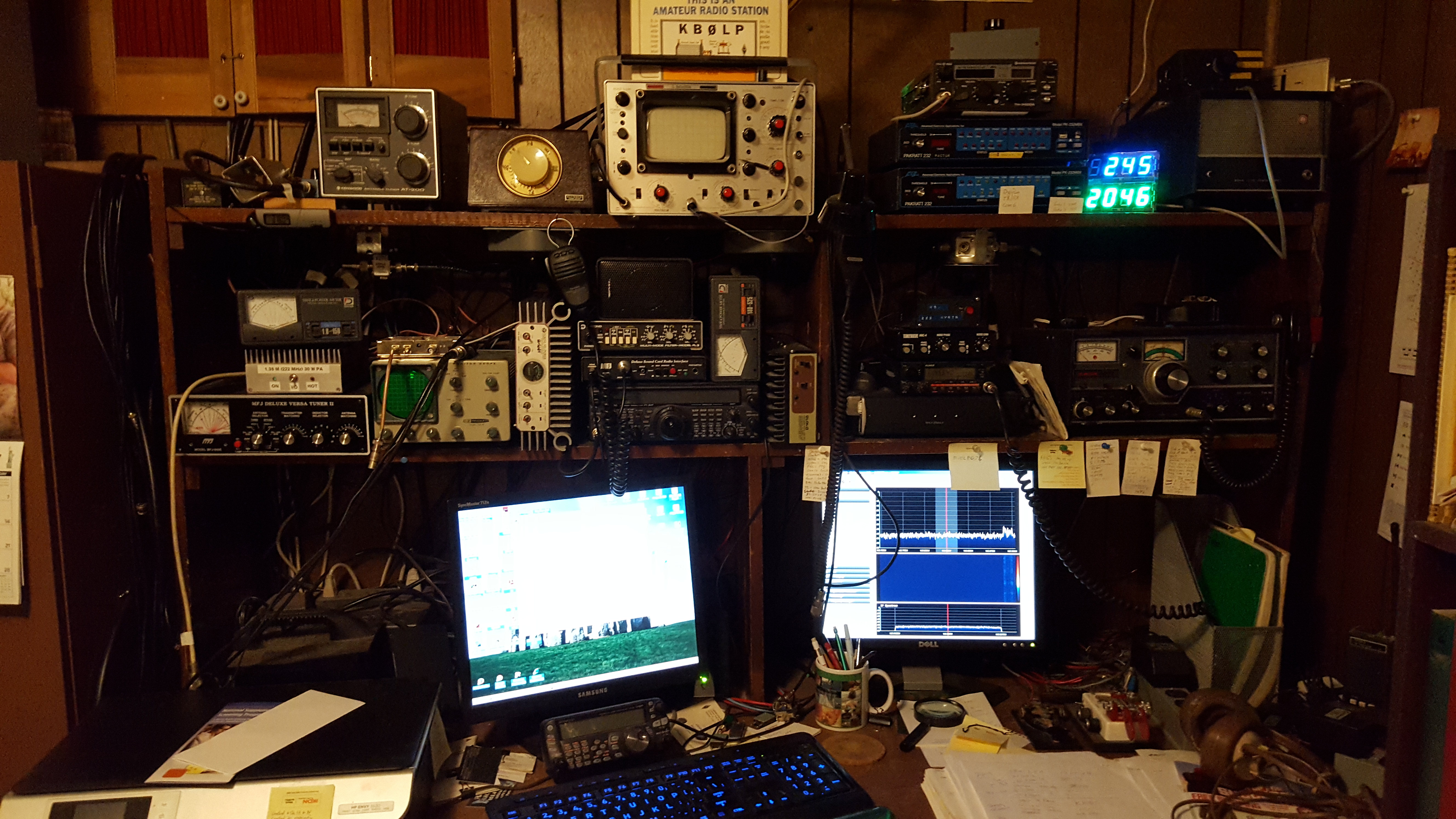 From left to right and top to bottom:
boat anchor tuner

rotator control

receieve monitor scope   

packet radio w/ TNC

HF TNC

Clocks, one UTC, one Local

Swan power supply (see below)

222 MHz power meter

222 MHz amplifier

HF tuner   

1296 MHz xverter

transmit monitor scope

144 MHz amplifier

audio filter (under speaker)

sound card interface

FT-847 VHF/UHF (HF used for xverter IF)

UHF power meter

432 MHz amplifier

222 MHz xverter

RF active noise canceller

Alinco DR-570 (used for VHF/UHF monitor-usually on 64)

Kenwood TS-480 chassis

Swan 500C high power HF SSB

computer printer

computer main screen

computer aux screen showing SDR spectrum 

on desk - TS-480 control head

J-44 straight key

Palomar keyer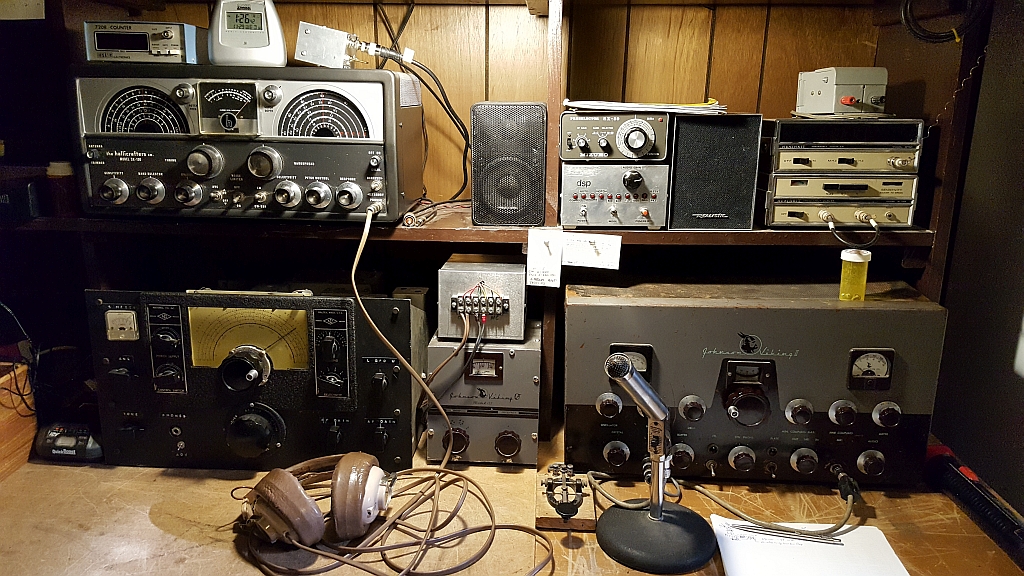 This is my boatanchor bench.
On the left are the receivers, a Hallicrafters SX 100 on the top  and an RAO 7, the Navy version of the National Radio NC 100 on The bottom.  The big knob at bottom center is the band switch that slides a coil assembly back and forth to change bands. These were used as "entertainment" radio's on Navy ships and include an extra rf section to limit radiation from the local oscillator that could be tracked by the enemy.
On the top right are the "helpers", a preselecter and audio filter for the receivers and a counter for the transmitter. 
 At the bottom right is the Johnson Viking II transmitter, modified with a modulation meter. It has two 6146 tubes in the final, fully plate modulated by a pair of 807 tubes.  The mike is a 60s vintage Electro Voice 636. The rig puts out a solid 100 watts AM, with good audio reports.