Collins driving another nail into the amateur radio emcomm coffin?
Give up on emcomm?
Where is emcomm technology going?
For Immediate Release
Arapahoe County, CO, June 20, 2020 -- Volunteer Amateur Radio Operators, who are members of Arapahoe County Amateur Radio Emergency Service (ARES) in Arapahoe County, Colorado will be participating in an exercise on Saturday, June 20, 2020 at 9am.The exercise tested and will improve our overall preparedness for an emergency event that may require specialized communications. Eighteen (18) exercise participants simulated weather related activities, involving simulated weather scenarios, and communicating with other volunteer communicators. The incident is not real, however, the response activities during the fictional exercise are practiced in a manner that is as realistic as possible. The exercise was meant to challenge the participants to think about how they would respond in complex situations.
 Arapahoe County ARES was first formed in the 1970's and has supported emergency management personnel and the citizens of Arapahoe County. Members of Arapahoe County ARES have received specialized training that includes the Incident Command System (ICS), National Incident Management System (NIMS), and specialized communications for all types of emergencies and are always prepared to assist utilizing user owned equipment. Members cannot accept any money for our efforts and have assisted in past events such as the 1997 Blizzard, 2001 Hayman Fire, 2013 floods, and the H1N1 Point of Dispensing exercise conducted by the Tri County Health Department.
Puerto Rican Earthquake, Aftershocks Continue with More Predicted -- ARES Supports Red Cross
ARRL Puerto Rico Section Manager Oscar Resto, KP4RF, reported on January 12 that as of early Sunday morning he was serving at the American Red Cross (ARC) HQ in San Juan, maintaining communications with the Red Cross warehouse in the town of Yauco in southwestern Puerto Rico, the center for the ARC relief operation for those affected in earthquake-impacted zones. Resto reported that radio communications on VHF and UHF were stable as were the commercial telecommunications services.
Resto reported that antennas were needed. ARRL Southeastern Division Director Mickey Baker, N4MB, of Palm Beach Gardens, Florida, arranged to have ARRL HQ staff ship the antennas for the VHF and UHF operations to Resto.
Resto reported that aftershocks were continuing in the wake of the 6.4 magnitude earthquake that struck the southwestern part of the island on Tuesday, January 7. Resto reported at the time that the commercial telecommunications network was largely operational, stating "We have cellphones all over the island working," and adding that ARRL section officials were drafting a list of amateur radio licensee-volunteers who would be able to muster to assist the American Red Cross, with which Puerto Rico ARES has a memorandum of understanding.
Ultimately, stations at Red Cross HQ in San Juan and the Yauco center operated as a backbone in the event of more aftershocks, or new and possibly stronger earthquakes hitting the region. The USGS forecast indicated a 68% probability of a Magnitude 5 earthquake in the next seven days. "These strong aftershocks are expected and are a natural process after a strong earthquake," FEMA said.
Heriberto Perez, WP4ZZ, the ARES District Emergency Coordinator for Yauco, was active there. ARES was involved with health and welfare message handling, with calls received and handled by ARES ZONE 5 operators on backup frequency 146.770 MHz from their home stations. Perez reported that the internet was working, albeit with slow throughput.
At the Yauco Red Cross distribution center, Perez and operators signed in and set up radios, and attended a short safety meeting conducted by the Red Cross Chief Operating Officer (COO) Miriam Ojeda. Meeting topics included "survival safety and where to meet in case evacuation is imminent." Operators were required at all times to wear safety vests and hard hats, all personal protection equipment (PPE) provided by the Red Cross on site. Meals, snacks, water and drinks were provided for the radio operators. No one was allowed to leave the facility.
Perez reported that "it was a bit of a rough day," with many aftershocks occurring. "It felt like you were in a simulator," he said. "We had three ARES personnel at the station, with our primary frequency for direct contact with San Juan assigned: 447.800 MHz, and our backup support frequency in Mayaguez -- 146.770 MHz." Solid, reliable communication was established and maintained. Health and welfare traffic from nearby victims was handled, and messages were promptly given to ARC COO Ojeda.
Perez reported: "By the end of the day, Ojeda asked us if we could help fill out official forms from the victims that were contacted via radio -- she gave us blank forms and conveyed instructions on standard operating procedure." Perez said "we are now reaching out to the affected communities and victims who are asking for tents, diapers, and medicine, and handling many other requests."
FEMA reported on January 12 that there had been significant progress in power restoration with 100 percent power generation expected if all assets are online, although there will be little to no reserve capacity, and the grid will be fragile. FEMA continues to assist impacted municipalities in addressing emergency needs. FEMA personnel are embedded with local officials in impacted areas to facilitate requests for assistance. On January 11, Governor Vazquez had submitted her request for a Major Disaster Declaration. More here.
Australian Bushfires Causing Major Telecommunication Outages, Amateur Radio Emergency Communication Groups Asked to Remain Alert
Wireless Institute of Australia President Greg Kelly, VK2GPK, reports the bushfires in Australia have caused or are expected to cause significant disruption of telecommunication services in the states of Victoria and New South Wales (NSW). "The scope and range of these impacts is unknown at this stage but are predicted to cover all internet and phone (fixed and mobile) and other commercial radio services," he said. Kelly asked radio amateurs in International Amateur Radio Union (IARU) Region 3 to monitor the emergency communications frequencies set forth in the IARU Region 3 band plan whenever possible, as well as repeaters.
In a post on New Year's Day, the Wireless Institute Civil Emergency Network in New South Wales (WICEN NSW) stated it continues with its response to the NSW bushfire emergency. WICEN NSW maintains an ongoing commitment of Incident Management Team communications operators to Fire Control Centers, and of operators to the Bush Fire Information Line at Rural Fire Service (RFS) HQ. WICEN NSW operates as a part of the NSW Volunteer Rescue Association commitment to the emergency and operates under the direction of the NSW RFS.
FEMA Updates Community Emergency Response Team Training
FEMA conducted a webinar on January 8 on the release of the updated Community Emergency Response Team (CERT) Basic training curriculum. Presenters shared the reasons for the changes, highlighted best practices, and shared impacts of the updated training. Participants learned how trainers can deliver the updated training and how to order materials. This was the second of two webinars about the updated CERT Basic training curriculum, though the webinars presented similar information. Recordings of the webinars can be found here.
The Community Emergency Response Team (CERT) program educates volunteers about disaster preparedness for the hazards that may impact their area and trains them in basic disaster response skills, such as fire safety, light search and rescue, team organization, and disaster medical operations. CERT offers a consistent, nationwide approach to volunteer training and organization that professional responders can rely on during disaster situations, allowing them to focus on more complex tasks.
The updated CERT Basic Training can be found here. It features a revised Disaster Medical Operations section, updated Terrorism and CERT section, and new hazard-specific annexes. Find the new curriculum materials online and order free copies from the FEMA publications warehouse beginning January 8, 2020. The CERT Basic Training includes research-validated guidance for CERT programs to teach members what to do before, during, and after the hazards their communities may face. The materials in the training include instructor guides, participant manuals, and hazard annex slide decks. The FEMA Independent Study IS-317: Introduction to CERT can be taken online before or during training.
[ARRL is an affiliate under the Department of Homeland Security's Citizen Corps programs--Neighborhood Watch, Volunteers in Police Service, Community Emergency Response Teams and Medical Reserve Corps. The mission is public preparedness and safety. In other words, neighborhood and community volunteers serve as the "help until the help arrives." Radio amateurs are ideal candidates for the CERT program owing to their unique ability to communicate within their neighborhoods and communities for local emergency communications, but also when the need exists for communications with the outside world. Find your local CERT group and get connected. - ed. ]
FCC Formally Adopts Proposals to Remove
Amateur 3 GHz Band, Invites Comments
The FCC's plan to remove "existing non-federal secondary radiolocation and amateur allocations" in the 3.3 - 3.55 GHz band and relocate incumbent non-federal operations already has begun drawing fire. The Commission formally adopted the Notice of Proposed Rulemaking (NPRM) in WT Docket 19-348 on December 12 and invited comments on appropriate "transition mechanisms" to make the spectrum available for mobile and fixed wireless broadband use. ARRL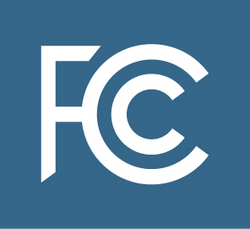 plans to oppose the move. The amateur 9-centimeter allocation is 3.3 - 3.5 GHz.
"By proposing to delete the existing non-federal secondary allocations from the 3.3 - 3.55 GHz band, we are taking an important initial step towards satisfying Congress's directives and making as much as 250 megahertz of spectrum potentially available for advanced wireless services, including 5G," the FCC said in the Introduction to its NPRM.
Some comments arrived before formal adoption of the NPRM, which was circulated ahead of the December meeting. Kevin Milner, KD0MA, the secretary/treasurer of the Ski Country Amateur Radio Club in Colorado, argued that the club's equipment cannot be re-channeled below 3.4 GHz, and the club is seeking relocation costs. Devin Ulibarri, W7ND, told the FCC that amateur networks in the current band cannot move easily into other amateur allocations because there is no readily available commercial equipment to support the bandwidth, the FCC said in a footnote.
Currently, the entire 3.1 - 3.55 GHz band is allocated for both federal and non-federal radiolocation services, with non-federal users operating on a secondary basis to federal radiolocation services.
With respect to amateur operations, the FCC invited comments on whether sufficient amateur spectrum exists in other bands that can support the operations currently conducted at 3.3 - 3.5 GHz. The 3.40 - 3.41 GHz segment is earmarked for amateur satellite communication. The FCC said if non-federal licensees are relocated to the 3.1 - 3.3 GHz band, it proposes to have them continue to operate on a secondary basis to federal operations, consistent with current band allocations.
Also at its December 12 meeting, the FCC considered another NPRM in WT Docket 19-138 that would "take a fresh and comprehensive look" at the rules for the 5.9 GHz band and propose, among other things, to make the lower 45 MHz of the band available for unlicensed operations and to permit "cellular vehicle-to-everything" (C-V2X) operations in the upper 20 MHz of the band. The FCC is not proposing to delete or otherwise amend the 5-centimeter amateur 5.650 - 5.925 GHz allocation, which would continue as secondary. The NPRM, if approved, would
address the top 75 MHz of that amateur secondary band. Although no changes are proposed to the amateur allocation, an anticipated increase in primary use could restrict secondary amateur use.
The Amateur Radio Emergency Data Network (AREDN) has offered its voice in challenging the FCC proposals on both 9 and 5 centimeters, saying their adoption would "eliminate our use of the most-effective resource hams have to build its networks."
"The AREDN Project is able to leverage low-cost commercial devices solely because they are designed to operate on adjacent allocations," AREDN said on its website. "Moving to other allocations would be difficult if not impossible without a complete redesign, manufacture, purchase, and installation of new custom amateur hardware and software...raising the price out of reach for the typical ham."
Volunteers provide much needed help during disasters and more. Santa Cruz County has a very active Community Emergency Response Team, or CERT, presence as well as a team of ham radio operators who are the unsung heroes during a disaster.
"Good morning, Cucamonga! This is Santa Cruz E.O.C.!"
Each week ham radio operators check the California Office of Emergency Services and network with other ham operators throughout the state. They play a pivotal role in emergencies and natural disasters through groups like the Amateur Radio Emergency Service (ARES) and The Amateur Radio Relay League (ARRL).
---
STARKVILLE, Miss. (WCBI)- Local amateur radio operators came together today to talk about the importance of ham radios and connect with the community.
The Magnolia and Lowndes County Amateur Radio Clubs joined forces for a radio day in Starkville.
The event lets amateur operators connect with the community and test out their gear. 
ARRL Legislative Advocacy Committee Drafting New Bill Addressing Antenna Restrictions
The ARRL Board of Directors Legislative Advocacy Committee is in the process of drafting a new bill to address the issue of private land-use restrictions on amateur radio antennas. The proposed legislation would be the successor to the Amateur Radio Parity Act. The Legislative Advocacy Committee, chaired by Pacific Division Director Jim Tiemstra, K6JAT, will report to the Board soon, once plans are fleshed out. Tiemstra told the ARRL Executive Committee (EC) on October 12 in Aurora, Colorado, that Advocacy Committee members have traveled to Washington to meet on multiple occasions with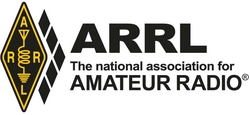 members of Congress and their staffs to inform them of the committee's plans.
ARRL Washington Counsel Dave Siddall, K3ZJ, told the EC last month that he understands the conditional exemption of amateur radio licensees from the RF exposure measurement requirements in the FCC's Part 97 Amateur Service rules is proposed to be removed. A Report and Order in FCC Docket WT 13-84 is making the rounds that, if adopted, would make amateur licensees subject to the same requirements as all other FCC licensees. The Report and Order is expected to be released before year's end.
Siddall also reported to the EC that the FCC is poised to address the 60-meter band amateur allocation adopted at World Radio communication Conference 2015 (WRC-15). The National Telecommunications and Information Administration (NTIA), on behalf of US government primary users of the band, has insisted that the maximum permitted power for radio amateurs must not exceed that agreed to at WRC-15 -- 15 W effective isotropic radiated power (EIRP) or 9.1 W ERP -- despite the fact that Canada has authorized its amateur licensees to use 100 W, and eliminate the current discrete channels, which ARRL's petition proposed to retain. NTIA oversees federal government frequency allocations and users.
Minutes of the October 12 Executive Committee meeting were posted this week on the ARRL website.
---
From the ARRL Letter for March 28, 2019:
Colorado ARES Volunteers Muster for "Bomb Cyclone" Winter Storm
Amateur Radio Emergency Service (ARES) volunteers in Colorado stepped up as a mid-month "bomb cyclone" winter storm struck the state, with heavy rain shifting to heavy snowfall. The storm affected several states and led to significant flooding in Nebraska. Parts of Colorado recorded winds of nearly 100 MPH and record-low barometric pressure readings. ARES teams in Colorado began preparations a day ahead of the so-called "bombogenesis" weather event.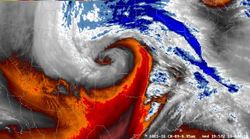 Water vapor imagery of the March 13 "bombogenesis" weather event. [National Weather Service image]
Pikes Peak ARES alerted its personnel via email and a regularly scheduled Tuesday net and coordinated with the Special Communications Unit (SCU), a special cadre of radio amateurs in the Pikes Peak Regional Office of Emergency Management (OEM). Most SCU members also belong to ARES, but when called up by the OEM, they wear their SCU hats. The SCU planned to deploy to the Emergency Coordination Center (ECC) on March 12 and be ready to operate first thing in the morning.
At the time, the Red Cross did not anticipate needing Pikes Peak ARES support, so the ARES district planned to undertake weather spotting for the National Weather Service (NWS) office in Pueblo and relay status information to the ECC. By the morning of March 13, however, the storm's timing had changed, and the Red Cross requested ARES operators in four shelters, creating a problem with recruiting and deploying sufficient volunteers in time. Three ARES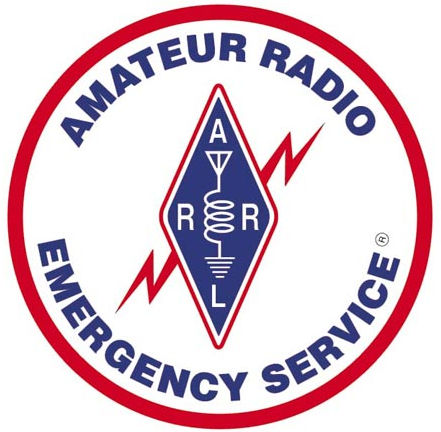 volunteers were identified, but by then the weather was so severe that only one was able to get through, amid difficulties.
At the request of NWS Pueblo, a formal weather net was called up and ran for more than 10 hours, even though the primary and back-up net control stations lost power for several hours. Some 70 operators provided reports during the storm and its aftermath. An informal net continued for another 16 hours until the SCU operators were released from the ECC.
"While the net started out as a weather net, it quickly became a common way for operators to report stranded motorists, requests for assistance, abandoned vehicles, Good Samaritan rescues -- important so that the ECC could clear police, fire, rescue, and National Guard units from responding -- shelter status, and requests about road conditions," said John Bloodgood, KD0SFY, Pikes Peak ARES Emergency Coordinator and Public Information Officer (PIO). The storm stranded more than 1,000 motorists in El Paso County.
Neighboring Douglas and Elbert counties also took proactive measures on March 12, opening emergency operations centers (EOCs) in anticipation of the storm. Both counties count on ARES of Douglas and Elbert Counties (ARESDEC) radio to support communication in emergencies. Before the heavy rain turned to snow, the two counties had already begun to open shelters. The ARES team's operations staff closely followed weather forecasts and knew this activation would be different.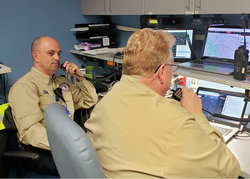 Frank Watervoort, AB0WV (left), and Rand Reynard, W0RDR, at the Douglas County Emergency Operations Center. [Ron Coffee, KD0TRY, photo]
"Our preferred procedure is to keep our operational periods to about 8 hours," ARESDEC Operations Chief Denny Phillips, W0DDP, explained. "However, we knew that once our people were in place, especially on the eastern plains, that providing relief would not be possible. Our people would have ride out the storm in the shelters."
As the storm progressed, it became clear to county officials that additional shelters would be needed. ARESDEC operators assisted the Red Cross in setting up shelters and organizing and managing food service.
By the end of the storm, more than 1,100 people were hosted in eight shelters across the two counties. ARESDEC deployed 17 radio operators. Emergency Coordinator Jim Rooney, N4JJR, praised the volunteers' performance, saying, "Our team performed well above expectations due to their commitment to training and willingness to serve." 
Colorado Section Emergency Coordinator Robert Wareham, N0ESQ, oversaw and took part in the overall response. -- Thanks to Pikes Peak ARES EC and PIO John Bloodgood, KD0SFY, and ARESDEC PIO Ron Coffee, KD0TRY 
From the ARRL ARES E-Letter February 20, 2019: